Experience Istria and its beauties
Experience the full beauty of the Croatian coast while kayaking! Visit numerous islands, bays, and amazing sea caves in south Istria.
Istra Kayak is a small family business offering carefree guided kayaking tours to the top locations, starting from the Cape Kamenjak. The coast of the protected nature park Cape Kamenjak is 30 km long, consisting of beautiful bays with crystal clear water, tiny islands and hidden caves, making it an ideal place for exploring and relaxing.
Kayaking is the single best way of truly experiencing the natural beauty of south Istria and the only way of visiting the bays inaccessible by land. In the last couple of years, kayaking the Croatian coast has become very popular among travellers. However, information overload makes it hard for most travellers to find places worth visiting.
Discover the best places to dive and explore
When participating in kayaking tours, you can be sure not to miss all the best places for swimming, snorkelling, and exploring! Istra Kayak guided tours are carefully planned to fully enhance the experience of visiting the best places favourite among locals, not missing any detail on the way.
From adventurous sea cave excursions to relaxing sunset trips, there is something for every taste. Paddling along the coast, exploring the islands and shallow reefs, cliff jumping and everybody's favourite snorkelling inside the caves are some of the activities done on the tours.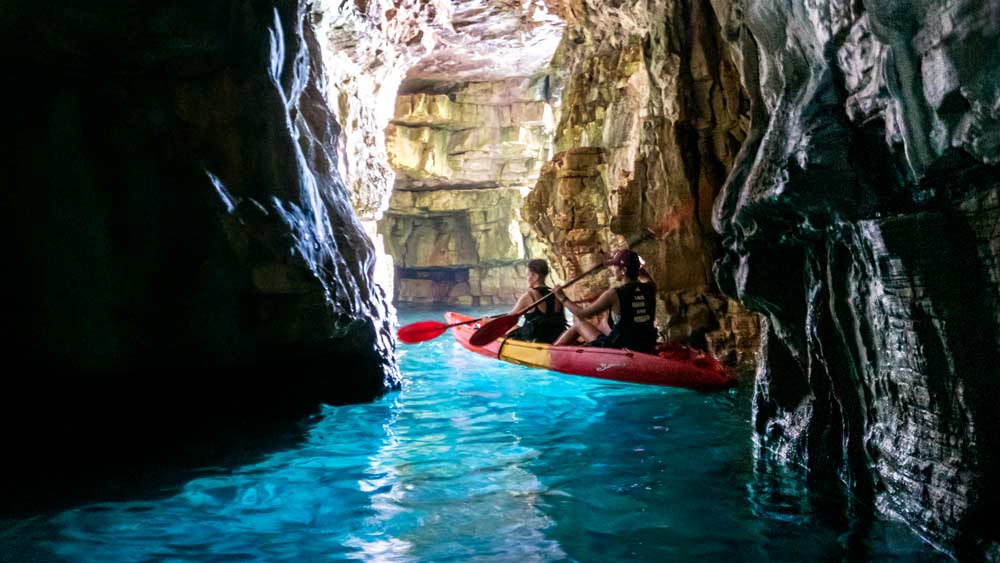 Experienced guides make this experience unforgettable
Tours are guided by local certified guides that speak 3 languages, have years of experience in kayaking, and know the area of Kamenjak and Pula by heart. Kayaking trips are suitable for all ages, ideal for families with children and friends. Previous paddling experience is not required, and everybody can join – from complete beginners to experienced kayakers!
If planning on spending a summer vacation in Istria, be sure to visit Cape Kamenjak and Istra Kayak – situated inside the park. Along with kayaking tours, you can rent quality kayaks for individual exploring, as well as SUP boards and windsurfing equipment.